HOW to ATTRACT TRADESHOW BOOTH TRAFFIC
CREATE THE IDEAL SELLING ENVIRONMENT ON THE EXPO FLOOR.
There is no better Tradeshow Floor Attraction nor Expo Traffic Generator, and no better way to attract the longest lines and dwell times to your expo booth than through high-quality, studio-lit headshots with real-time email & SMS sharing, from true experts.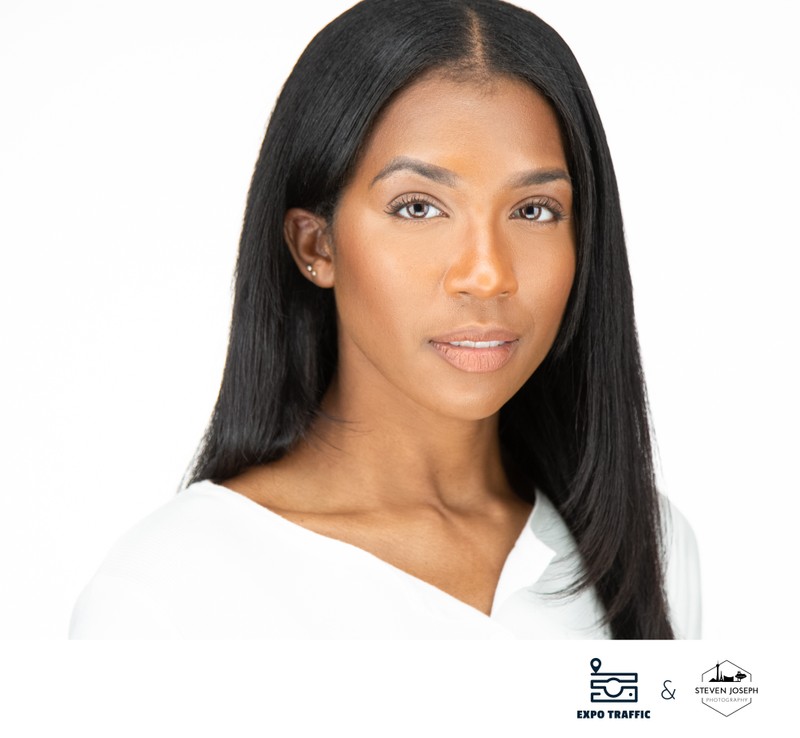 If you want the busiest booth on the tradeshow floor and all the time necessary to start conversations, make new friends, do real business, and show real ROI, you need a headshot studio attraction from EXPO TRAFFIC.
Typically we are hired by the expo producer, who then resells our service to a major sponsor, or by anchor exhibitors. These sponsors and exhibitors then place salespeople in the all-day line we create, where they have a leisurely 10-90 minutes to start conversations with new clients and catch up with existing friends.
This FAQ should answer most of the rest of your questions.
"Thank you so much for providing such a great crowd-generation experience in our booth. We absolutely knocked it out of the park, and we got so much feedback from our attendees about how at ease you made them feel and how great the photos turned out. The booth was the talk of the convention."




– Alex Gant, Senior Marketing Manager, EVIDERA
Thank you! You were absolutely amazing. I mean the hundreds of people who came through our booth just to get a headshot were so remarkable in so many ways. We were able to spend such quality time getting to network due to you being there. Not only did we get to network with people and companies that we never would have had the opportunity to do so but the line was always around the corner and people were completely willing to wait. Everyone had such great things to say about you in that you were really great at taking photos and how to pose but, also, really fun and comfortable to work with. To top it off you only took a half-hour break for the full day I was there.

– Carrie Gable, Senior Account Manager, Account Development, Business Development, PPD® Biotech
We now have people around the booth consistently throughout the day rather than just at break times. Traffic has increased about 25% since we started offering headshots with EXPO TRAFFIC.


– Carrie Kelly, Dir of HR, ACFE
To see what she's talking about, press the button below.
OR
CONTINUE READING BELOW GALLERY ...
Is traffic & dwell time to your booth kind of anemic, no different than most everybody else's? If giving out USB sticks and mousepads is not driving traffic to your expo booth, consider offering professional headshots with real-time social media sharing.
I thought Steven was so professional and welcoming with everyone. He set the tone for people to feel comfortable getting their photo taken and made them laugh and enjoy the experience. The instantaneous social sharing was perfect for starting a conversation with people. I think the whole thing was a big hit and everyone is raving about the photos. They look SO good! I can't wait to use my new headshot.




– Courtney Bryan, Sales Manager at Travelzoo



"It was great working with you and you really helped make our presence at the event top-notch. The attendees are thrilled with their headshots!"

– Kelly Kyer, Global Director, Technology Vertical Marketing, Linkedin
How do we do it?
We don't sell tchotchkes or performances. WE SELL EXPO TRAFFIC.
We've all seen USB sticks, roulette wheels, puppets, magicians and beefcake (at least in Vegas). While all of those attractions have their place on the trade show floor, none of them attract and keep long lines of customers to your booth. At best the entertainment attracts a small crowd to watch the show, who all scatter the second the show is over. At worst people grab and dash with your tchotchkes all day long. "Hello. Goodbye."
We've even seen small, timid headshot lounges that fail to attract a line because they suffer a cascade of failures for being so small.
More traffic.
Finding the best way to spend your expo budget can be stressful but we can prove that professional headshots will increase traffic and dwell time to your booth by 25%.
Was truly a pleasure to work with Steve at the Arival conference. Having the headshot booth at the trade show was great in attracting attendees to our booth and Steve was fantastic in making every one of them feel special. I've already told our team we need to have his services at every trade show we attend!


–Bryan Garber, Sales Manager at Travelzo



An unsurpassed ROI opportunity for your trade show, conference or corporate event.
Better Leads Your queue is going to be so long, that you'll need crowd management to handle all that attention! Not only will you get increased traffic to your booth, but you'll also get quality leads and all-important customer data captured from nearly every participant.
Plus, detailed analytics to show how wide and far your brand has reached.
We've figured out the 5 secrets to attracting the longest lines with the longest dwell times, making your booth the envy of the expo floor. Finally quantifiable lead generation, helping you to get the most return on your big trade show investment.
Every headshot above is un-retouched, exactly as your guests see it instantly on one of our many social sharing kiosks.
One of the 5 secrets to attracting so many people all day long who willingly wait for 30-90 minutes is that they can use a social kiosk to instantly socially share their gorgeous new headshot. Within minutes of opening up the Expo Traffic Headshot Lounge, your guests' beautiful headshots go viral within the convention and a line forms to your booth that never goes away.