WHAT GEAR DO WE BRING TO YOUR JOB?
While the gear we bring to jobs can differ greatly depending upon its nature and scope, we'd like to list some of the gear we bring to different jobs for you below.
EVENT EDITING
When editing event photography on-location in near-real time, we bring a specially built computer boasting the very latest and fastest hardware, to ensure that content editors can get your images into and out of our computer and to your marketing and social media staff faster than anybody.
WARNING - the following section is pretty geeky! It lightens up further down :-)
HARDWARE
HARD DRIVES: 2 Samsung 970 PRO 512GB NVMe PCIe M.2 2280 SSDs. These solid state hard drives are basically mainlined directly into the motherboard, bypassing cables and junctions, delivering RIDICULOUS read and write speeds in the 3,500/2,700 MB/s range. That's about 550% faster than the fastest external USB 3.1 hard drive, and about 700% faster than a standard 7,200RPM internal hard drive connected via SATA III.
RAM: 4 sticks of DDR4 4266 Corsair Vengeance RAM, 16GB each for a total of 64GB of RAM. That's a LOT of REALLY FAST RAM.
CPU: Intel Core i9-9900K Desktop Processor 8 Cores up to 5.0 GHz. One of the very fastest CPUs available and one of the few that easily overclocks to 5.0GHz out of the box.
MOTHERBOARD: GIGABYTE Z390 DESIGNARE Gigabyte (Intel LGA1151/Z390/ATX/2xM.2/Thunderbolt 3. Not only is this motherboard designed to accommodate all of the screaming fast hardware above, but it also supports Thunderbolt 3 - the fastest I/O port currently available - for getting images into and out of the computer as fast as possible.
INPUT/OUTPUT: As mentioned above, multiple Thunderbolt 3 ports support the very fastest way to get your images into and out from the computer.
SOFTWARE
We bring everything you'd expect for us to quickly ingest, tag, rename, # hashtag embed, caption, lightly edit, and export your photos faster than almost anybody.
PhotoMechanic: This software isn't pretty, but it is highly optimized for ingesting, captioning, re-naming, and otherwise preparing photos to be edited. PhotoMechanic is widely used by professional sports photographers and others who need to get their valuable images to editors as fast as possible.
Adobe Lightroom: The standard Digital Asset Management & light editing application used by the vast majority of photographers. Lightroom allows editors to do almost everything possible with its big brother Adobe Photoshop, only much more quickly.
FTP: We always have an FTP client ready to transfer your images wherever you need them.
REQUIREMENTS
The only things we require when providing near-real time editing services to your event is a room that is secure enough and big enough, and that has 120 volt power and a fast Internet connection.
EXPO TRAFFIC HEADSHOT LOUNGE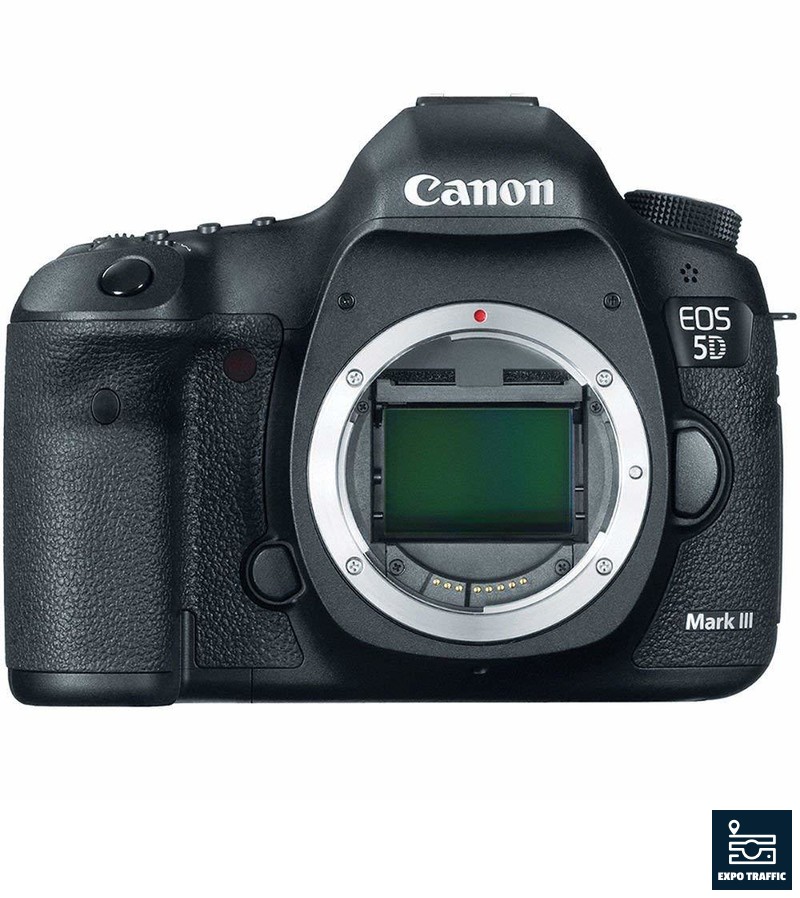 Get ready. This is a long list of gear 0_o. We don't fool around. One of the secrets to attracting the longest lines with the longest dwell times to your client's tradeshow booth is that the headshots have to be of very high quality, with very beautiful lighting, and they must be instantly socially shareable. This combination (plus a few other ingredients) is the formula for the busiest booth at the expo.
PHOTOGRAPHY
Full frame DSLR camera bodies like the Canon 5D IIIs and Canon 5D IVs and Nikon D800 & Nikon 850s.
Long focal length portrait lenses. One of the reasons so many tiny headshot lounges you see scattered around many trade show floors don't have any line is because the photographer is forced to use a wide angle lens because the space s/he's given is so small. Wide angle lenses make people look wider and plumper than they are in real life. Nobody's gonna share those photos. So no long lines are gonna form at your booth. We typically shoot at least at 100mm focal length using the Canon 70-200mm f/2.8L IS III or the Nikon AF-S NIKKOR 70-200mm f/2.8E FL ED VR.
LIGHTING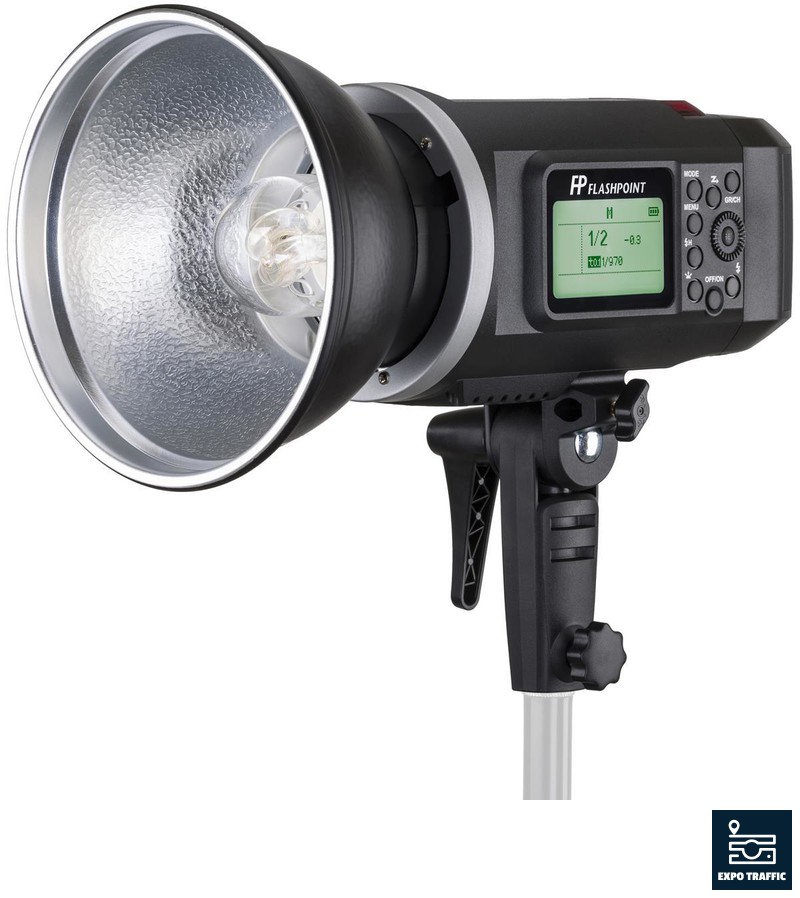 Most experienced photographers will tell you that, to produce high quality light, the proper use of MODIFIERS is much more important than the brand or style of the lights. I've seen photographers make gorgeous light using the most expensive Broncolor Siros strobes and Profoto B1s and D1s, Kino Flos, Peter Hurley Flex LED Mats, and Canon Speedlites, all the way down in expense to Paul C Buff Alien Bees and YongNuo knock-off speedlites, and even inexpensive T8 fluorescent office tubes that cost $3 each. As long as the lights pop or glow when and how you expect them to, in my opinion the light source is much less important than the proper use of the right modifiers. With that said, here's the lighting that I typically bring to an EXPO TRAFFIC HEADSHOT LOUNGE shoot.
Flashpoint XPLOR 600 HSS Battery-Powered Monolight. I bring at least 4, and I bring several high powered speedlights as backup.
Really amazing modifiers! [I'm not going to tell my competitors ALL of my secrets.]
Lot's of different sized c-stands.
Reflectors!
COMPUTERS
Another key to attracting the longest lines to your clients trade show booth is to enable real-time social sharing. When a photo is gorgeous and makes my clients giddy with "oooh"s and "aaahh"s they LOVE how they can share them to friends and family, and send them to their phones immediately after their photos are taken. With beautiful headshots on their phone your guests will start advertising your booth everywhere they go at the convention, and BOOM that's how your booth goes viral.
Making this work takes a lot of interdependent gear and software and knowledge of how it all fits together. Fortunately the founder of EXPO TRAFFIC HEADSHOT LOUNGES, before he became a professional photographer, had a long career in setting up and managing complex computer networks. In fact Steven Fogarty designed and managed the first PC-based email network used by the 435 members of Congress and their staffs way back in the 90s. This LAN-based email system replaced the antiquated and very expensive mainframe email system previously used by Congress. So, here's some of the hardware and software we bring to attract the longest lines and dwell times on the expo floor, right to your booth.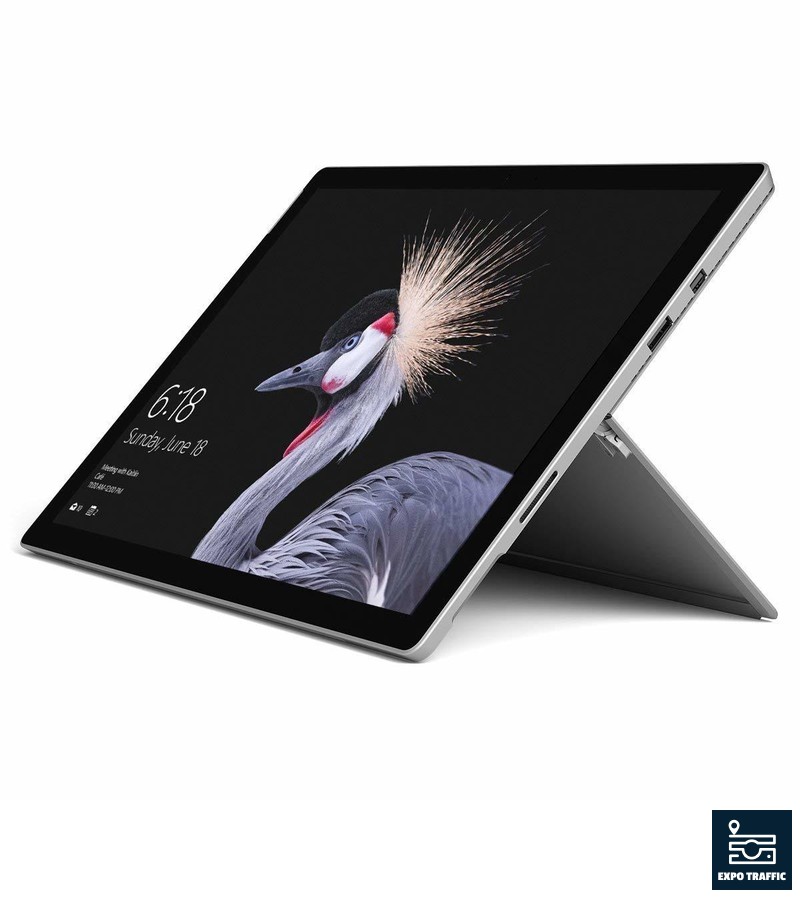 Microsoft Surface Pros. We bring at least 5 Surface Pros. One of them we use to manage our photography as we shoot. The other 4 are available as backup to the first one, and mainly to display images in real-time as each headshot session proceeds. Every photo taken is available to see - and to socially share to Text / SMS, email, and to the most popular social networks - as soon as each guest's photo session is done. Most guests find the Surface Pro touch screen size to be just right - not too big, and not too small. As many guests are a little shy about showing the world their headshot they like to block the screen with their bodies as they scroll through and select their favorites to immediately text and email to their phones.
Apple iPads. We also bring several iPads for displaying photos and letting guests instantly socially share them.
Dell XPS All-In-One. This BIG computer serves as both the hub of our local area network, and it also lets our boldest guests view their photos huge and in all their glory.
LTE Internet Modems. While we recommend that our clients drop a hard ethernet Internet line for reasons of speed and reliability, we always bring one or more LTE Internet modems to provide our own portal to the Internet.
Switches: we tie all of these computers and modems together in a high speed local area network. For redundancy we always bring at least 2 of everything.
Routers: Keeping with the theme of redundancy, we always bring WiFi routers to augment our LAN and provide back up.
SOFTWARE
We bring all the software necessary to make this complex, highly functional system work beautifully for your guests. Setting up such a network is not for the faint of heart. We always bring computer professionals to set up this network.
And we only work with the very rarest of photographers who have the skills and personality to create gorgeous light and to direct each guest into their "best face" and pose.
EVENT PHOTOGRAPHY
Our Event photographers are some of the most experienced in the business. Owner and lead photographer Steven Joseph Fogarty has made his living as a professional photographer since 2004, and his crew is made up of only the very best and most experienced photographers for the job at hand.
WHAT'S IN STEVE'S BAG [LITTLE RED WAGON]?
Most of Steve's gear actually lives in a little red wagon he brings everywhere. So what's in it?
FOOD PHOTOGRAPHY
The gear we bring to any food photography shot allows us to create gorgeous light on beautiful surfaces while broadcasting the images we are making to our overseeing clients in real time. Clients always appreciate the ability to see each photo as we make them in very large, clear color on the iPads we bring for previewing.
2 Canon 5D III bodies
2 iPads
Networking gear, routers
Tripod
Microsoft Surface Pro 4
Tethering software
iPad previewing software
2 Flashpoint XPLOR 600 strobes.
Multiple Speedlights with grids and other modifiers
Large modifiers to create gorgeous light
Many c-stands and booms
Multiple surfaces to shoot upon, like slate tile and faux distressed wood